Quick Neon Signs was born out of a passion for helping people light up their lives with LED signs which reflect their own individuality. Our business was born in Las Vegas, Nevada, a city famous for it's flashing neon lights. We know first hand the feeling that comes along with neon art. It's part of what makes Vegas what it is.

Bringing that same feeling into your business or home used to be an expensive endeavor, meaning that a custom neon sign of your own was more of a dream, than an option.

Quick Neon Signs is here to change all of that. We did away with the idea that neon art should be mass produced in China, and then sold to you at outrageous prices. We decided that your art should be made for you, right here in the United States, and at prices you love.

Ever ask yourself why the turnaround time on other neon sign websites is 4-5 weeks? Because shipping your sign from the overseas mass production factory via cargo ship isn't exactly quick.

No more! Every last one of our LED signs is handmade, specifically for your order, right here in the United States.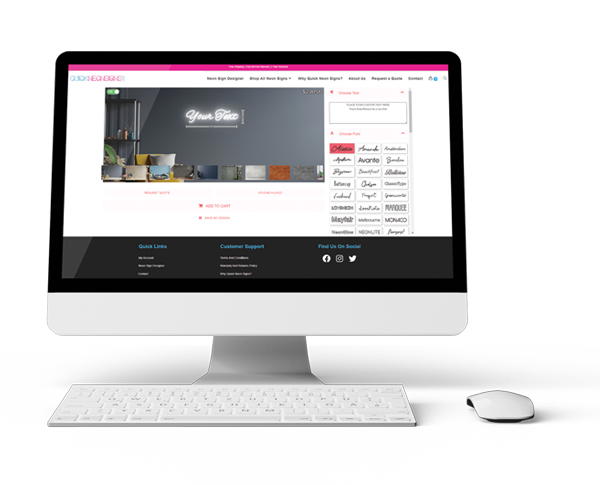 Unleash Your
Creative Side
Embrace your creativity with the Quick Neon Signs Custom Sign Builder! It's never been simpler or easier to create stunning works of neon art from the comfort of your phone, tablet or PC, making it possible to showcase your individuality in all of the brightest ways. Seamlessly submit your order right through the app, and your american made, handcrafted neon sign will be shipped for free to your doorstep in a flash. Get ready to bask in your own creative glow, made all the more custom with a free dimmer controller! What are you waiting for? Flex your creative muscles and design the custom LED sign of your dreams a reality today!
We can't wait for you to join the Quick Neon Sign family! Discover the possibilities that custom LED signs can bring to any space or occasion!